If you're looking for something fresh and distinctive in the world of curly hair, Burmese curly hair is your best bet. This particular type of hair is rising to prominence on a global scale due to its wonderful texture and simple maintenance requirements. In this blog post, we'll discuss the history of Burmese curly hair, how to care for it, and the various styles you can wear it in. So if you want to try something new, keep reading!
1. An introduction to Burmese hair curly
You may learn more about Burmese curly hair and associated ideas in the following article.
1.1. Burmese hair's curly history
Burmese curly hair is known for being naturally extremely curly. The curls are frequently small and tight with a lot of body and volume. This type of hair is ideal for people who desire to wear their hair naturally because it is also exceptionally silky and shiny. Burmese curly hair first appeared in the country of Burma in Southeast Asia. The oppressively hot and humid climate of Burma contributes to the perfect environment for the formation of curly hair. The water in Burma is also exceptionally mild, which helps to keep the hair moisturized and healthy. Burmese curly hair is a great option for people looking for something unusual and distinctive. The hair has a distinct texture and is really easy to manage. If you want a change, Burmese curly hair may be the ideal option for you.
1.2. Who should experiment with Burmese hair?
For African-American women, the hair texture is quite fine and ideal for those with coarse hair. The hair is healthy and pretty robust.
People who want curly hair but aren't sure how to manage it can choose this hair because of its wavy or curly texture. The hair can be purchased straight or straightened, and when curly or wavy, it has a sleek, silky appearance. Due to the hybrid nature of the Burmese curl, you have a variety of styling options.
1.3. Features of Burmese hair that is curly
Since every donor is different, no two Burmese curls are exactly alike. The Burmese curl is noted for its versatility. Kinky curly, curly, and wavy curly are only a few of the numerous hairstyles. The hair has a unique curl that returns after washing for people who prefer curly hair. The color is derived from the Burmese natural hair color of the donors.
A genuine look resembling fine human hair.

Extremely silky and thick.

Can maintain its curls while being bleached, straightened, and tinted.

Neatly fits flat iron rods.

When finished, it is somewhat lighter than ordinary hair, making it simple to blend in with any human hair.

Comes with lace wigs that have been expertly made; they are strong and don't easily break, shed, or fall out.

If after style is properly maintained, may last for more than 3 years.

Available in hair bundles, lace closures, full lace wigs, and clip-in extensions.
2. How should curly hair from Burma be cared for?
Now that you know what Burmese curly hair looks like, let's talk about how to style it. This hair type is quite versatile and may be styled in many different ways. One of the most popular ways to style the naturally curly hair of Burmese women is with a loose, natural curl. To achieve this look, simply wash and condition your hair as usual. With a wide-tooth comb, carefully untangle your strands after it has dried.
Spray 15 ml of natural oils into your hair before night, along with a mixture of three parts water to one part conditioner. To dampen the hair and untangle the coil, do this. After hydrating the hair, divide it into two halves and braid or twist it.

Hair should be braided and covered with a silk scarf or hat.

If you want to relax your curls when they're wet, run your fingers through them instead of brushing them.

In order to prevent the hair from drying out, use a good moisturizer. Hair that is too dry might break off and become frizzy.

Additionally, using natural hair care products in place of those made with harsh chemicals is advised.
3. Top 1 suppliers of wholesale virgin hair extensions
We will suggest to you the Top 3 Best Wholesale Virgin Hair Extension Vendors based on the criterion of good product quality but very affordable costs.
3.1.  PHUONGNAM HAIR  
PHUONGNAM HAIR is a well-known Vietnamese hair factory that exports a wide range of items from Vietnamese hair factories to clients all over the world. They are now the biggest hair supplier in Vietnam. Here are a few words regarding PHUONGNAM HAIR.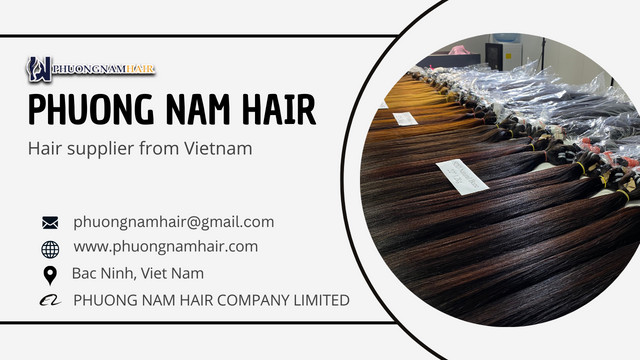 Website: phuongnamhair.com

Fanpage Facebook: Phuongnam Hair

Instagram: phuongnamhair_03

WhatsApp: +84 33 346 5538

Location: Building A1, Vinhomes Gardenia, Ham Nghi Ward, Cau Dien, Nam Tu Liem, Hanoi, Vietnam

Youtube: PHUONGNAM HAIR OFFICIAL