Do you want to learn how to market hair extensions and launch your own hair business? A lot of consumers are searching for wholesale hair suppliers all around the world, but they are not familiar with them or their secret caverns. Finding the best wholesale hair suppliers is not always easy. However, if you've found this article, I think you're well on your way to getting what you want.
1. Hair industry statistics and business potential for wholesale hair dealers
The hair market is now dominated by Asian wholesale hair suppliers, and many other wholesale hair suppliers from across the globe are competing for a piece of their multibillion dollar pie.
In 2021, the market for wigs and hair extensions is anticipated to reach a value of $6.61 billion, up from $5.80 billion in 2020. The wig and hair extension market will grow from $6.61 billion to $13.32 billion between 2021 and 2026, or around 14.73 percent. Asia-Pacific wholesale hair suppliers will control 45% of the world's market for hair, wigs, and extensions between 2020 and 2024.

The majority of weaving and hair extension clients, who spend more than $1 billion annually on this type of beauty therapy, are African women and people of African descent. The need for wholesale hair sellers has increased even though these nations cannot produce their own hair extensions.

A recent poll found that 39 percent of black women planned to buy a wig or hair extension in the upcoming year, while 45 percent of black women had done so in the previous 12 months. The typical black woman spends at least $240 annually in neighborhood retail stores on wigs, hair accessories, and extensions. The typical black guy spends only $175 a year on hair products at neighborhood beauty salons.

In 2020, the top three Asian wholesale hair suppliers accounted for 87 percent of all exports globally, and they will continue to rule the sector in the years to come.
Therefore, the demand for locating wholesale hair sellers will rise significantly as the market for hair extensions and wigs becomes even more fascinating in the years to come. This is because more and more individuals plan to trade this product. Let's learn everything there is to know about wholesale hair suppliers in this post because there are numerous issues that can occur if you are brand-new to the industry.
2. All about international wholesale hair retailers
In order to investigate the negative aspects of these wholesale hair vendors and choose which one is the greatest match for your company, let's have a look at some intriguing facts about wholesale hair sellers throughout the world.
2.1. What do wholesalers of hair do?
The two essential parts of the distribution process in the supply chain industry are wholesale and retail. When a business manufactures wigs and hair extensions, it first sells them in bulk to a wholesale hair vendor. The wholesale hair vendor then sells them to a hair retailer, who finally sells them to the ultimate consumers.
Because of this, wholesale hair dealers' pricing are always less expensive than those of retailers. On the other hand, the retail business has a large profit margin because retailers acquire goods at cheaper prices and sell them to customers at higher prices. You should import hair straight from wholesale hair suppliers at a reasonable cost and then resell it to clients if you want to optimize revenues from your hair company.
2.2. Who are the wholesale hair dealers throughout the world?
In general, wholesale hair vendors may be found all over the world, but not all of them are hair producers as the majority of Asia's hair supply is used in the market. Thus, hair factories and hair distributors may be used to categorize wholesale hair suppliers.
2.3. The world's largest hair producers
Asian wholesale hair suppliers must be considered while discussing hair manufacturers across the world. However, not all Asian wholesale hair suppliers are able to produce their own wholesale hair. At the moment, Southeast Asia and India are the only two locations from which Asia presently sources wholesale hair, with Vietnam, India, and China housing the three biggest hair producers. Additionally, there are a few smaller wholesale hair sellers from Indonesia, Malaysia, and Cambodia. Although the price is low, their hair extensions are not very distinctive.
2.3.1. Suppliers of wholesale hair from India
When it comes to Indian wholesale hair dealers, it's an interesting topic. When Chinese business people arrived in the South Asian nation to purchase raw hair, Indian wholesale hair sellers first appeared on the market. The term "temple hair" regularly appears while researching Indian wholesale hair suppliers. In this, hair taken from Indian temples is referred to.
The products that Indian wholesale hair dealers offer go much beyond what is shown here. Tens of millions of Indians donate their hair each year as part of a widespread religious custom, particularly in Hinduism, to show gratitude to the gods. Given that it is considered to be India's best hair, it is a key source of commerce for Indian wholesale hair dealers.

Only major wholesale hair dealers in India are able to purchase this hair type directly from the temples via auction or contract because of the restricted supply and high demand. Additionally, large quantities of wholesale Indian temple hair are purchased by Chinese hair dealers.

On the other hand, the aforementioned supply is excessive compared to the amount of hair that Indian wholesale hair dealers sell annually. According to multiple reports from this South Asian nation, a significant amount of India's wholesale hair is gathered from impoverished rural homes where women are forced to sell their hair in order to make a livelihood. This is the major supply source for wholesale hair sellers in India.

Hair theft is common sense. Hair has such a high market value. As a result, there is debate over the morals and openness of wholesale hair dealers in India. Given that 45% of customers consider the ethical question of origin to be the most important element in determining whether or not to buy hair, this presents a challenge for Indian wholesale hair suppliers.

When it comes to wholesale hair dealers in India, quality is another problematic element. Since most customers were unfamiliar with Indian hair back when the hair industry was still young, there weren't many complaints about the product's quality. However, with so many high-quality hair kinds available on the market today, Indian wholesale hair suppliers are finding it extremely difficult to raise the caliber of their goods.

Because of the intense heat in India, natural Indian hair is thin and dry, with a coarse texture and a hint of frizz. This helps to dissipate heat from the scalp. In order to make their hair look silky and shiny, Indian wholesale hair dealers feel obligated to chemically treat it. The structure of the hair will be significantly impacted by this.

You would be astonished if you see how the Indian wholesale hair dealers prepare their clients' hair. Large combs are used to hand collect and comb hair, harming the hair's outer cuticle. The production technique used by Indian wholesale hair merchants is currently outdated, thus the completed hair's quality isn't very excellent.

Indian hair may be dyed or bleached, but because it is naturally thin and curly, styling it can be challenging (it has to be straightened and then restyled). Furthermore, bleaching will just exacerbate the hair's already extreme dryness.

Of course, Indian wholesale hair dealers charge far less than those in other nations. This is due to the incredibly low cost of labor, the inferior quality of the hair, and the low cost of the input components. However, due to its increasing scarcity, Indian temple hair has become quite costly.

Due to their low prices, Indian wholesale hair suppliers are incredibly well-liked by business owners. Indian wholesale hair merchants are only suitable to individuals with a little budget who are price cautious, nevertheless, as quality has lately overtaken pricing.
2.3.2. Chinese wholesalers of hair
Ten to fifteen years ago, Chinese wholesale hair dealers produced extensions using Chinese women's hair. Due to China's rapid urbanization, however, the quantity of hair sold by Chinese women is currently fairly little, therefore the bulk of the materials are cheaply imported from other countries, especially India and a few Southeast Asian nations like Cambodia and Myanmar.
Chinese wholesale hair dealers commonly mix hair from several origins, such as Indian and Cambodian hair (not from a single hair type 100% unaltered), which results in inconsistent hair quality in each box. Surprisingly, Chinese wholesale hair dealers only use 20% of their hair for the local market and import more than 80% of their hair from other nations. It's typical to use many chemicals to give hair a fresh, new look.

Because there are so many different origins for hair, it is difficult to describe the general features of hair from Chinese wholesale hair merchants. Chinese wholesale hair suppliers, on the other hand, have great chemical technology, which makes Chinese hair extensions seem incredibly wonderful but difficult to use for a long time. You should consider long-term quality assurance while buying wholesale hair extensions in China.

The shelf life of hair purchased from Chinese wholesale hair dealers is relatively short. Chinese wholesale hair sellers must use a lot of chemicals to make their hair smooth and lustrous, and the hair may only be used for 6 to 12 months. It is challenging to sell hair from Chinese wholesale hair sellers in markets that demand good quality, such as Europe or high-end clientele, because of the hair's limited availability and mediocre grade.

One key advantage is the size of production in Chinese hair manufacturers. Chinese wholesale hair producers produce hair quickly and in large numbers using cutting-edge technology. China's industrial sector is highly developed. Except for the hair business, most of the wholesale Chinese hair vendors' hair items are produced with modern machinery. Chinese wholesale hair suppliers are therefore frequently found in great numbers. For individuals who don't want to wait a long time for their things to be made, this is perfect.

It is undeniable that Chinese wholesale hair vendors provide relatively competitively priced hair products, and as a consequence, many wholesalers are interested in working with these suppliers. Chinese hair sellers stand to gain significantly from the nation's extensive industry, inexpensive labor, and well-established transportation infrastructure.
If you're looking for a cheap source of hair, Chinese wholesale hair dealers might be a great choice. Despite the allure of low pricing, as a company owner you should take the quality-cost ratio into account because Chinese wholesale hair merchants have a subpar quality element.
2.3.3. Vietnamese hair wholesalers
For experts in the world of wholesale hair, Vietnam is no longer a strange source. The constant quality, affordable prices, and minimal risk of Vietnamese wholesale hair suppliers have earned them recognition from wholesale hair extension providers all over the world.
Vietnamese raw hair is defined as hair that is entirely natural and that has been collected directly from Vietnamese women living in the country's mountainous regions who are between the ages of 18 and 30. because women in the mountains are not exposed to chemicals that might be hazardous or perm services. They continue to take care of their hair in an all-natural manner, giving Vietnamese people hair that is incredibly durable and strong, and it meets all of their clients' demands.

Vietnamese ladies typically have straight hair with a shine. Vendors of raw Vietnamese wholesale hair may therefore style Vietnamese hair without first straightening it, unlike weak and frizzy Indian hair. Vietnamese hair is stronger and holds its style better when it isn't subjected to chemicals. A bundle of hair from a Vietnamese wholesale hair dealer will look thicker than hair from other sources since Vietnamese hair is thick but not excessively so.

Vietnamese laborers are renowned for their dedication, ingenuity, and experience. Each hair bundle is therefore painstakingly made by the deft hands of knowledgeable artisans and meticulously edited multiple times to obtain the finest quality. Vietnamese wholesale hair vendors are also improving the equipment and materials used in hair production as the industry expands as a result of the nation's increasing industrialisation.

The Vietnamese government has passed a law to protect wholesale hair suppliers from fraudsters. Customers can be sure they are getting precisely what they paid for when they buy hair from Vietnamese wholesalers because of this.

Additionally, Vietnamese wholesale hair sellers have many opportunities to merge and grow with other nations because this is a politically stable region with strong business agreements with many nations across the world. Hair is the main topic.

Vietnamese wholesale hair suppliers are renowned for creating high-quality hair that lasts for a long period; depending on the kind, durability can range from three to twenty years. Vietnam is one of China's primary rivals despite Vietnamese wholesale hair vendors' hair manufacturing lines not producing the same variety or volume of hair that Chinese wholesale hair vendors do.

Vietnamese wholesale hair suppliers are renowned for offering premium hair at competitive prices. Because labor expenses are currently cheap in Vietnam and local raw materials are not imported, this pricing is justified. Prices will be lower even at certain wholesale hair retailers that buy and make their own hair extensions.
Due to their great quality and low prices, Vietnamese wholesale hair sellers are one of the most well-known and high-quality hair providers in the globe. Many wholesale hair retailers from other countries rely on and adore the Vietnamese hair factory for this.
2.3.4. Additional Asian wholesale hair merchants
There are other wholesalers from Cambodia and Indonesia in Asia in addition to the three wholesale hair dealers already mentioned. but in general share many traits with the wholesale hair sellers mentioned above.
Although not nearly as wonderful as Vietnamese hair, Southeast Asian hair types are nonetheless superior to Indian hair in terms of quality. While these hair varieties frequently have a little frizzy texture and require pressing before style, they have a firmer base and are less prone to damage than Indian hair. The production technique used by these wholesale hair merchants, however, is not particularly advanced, thus the hair's quality is not always up to par.

Due to their relative youth and extremely low volume, these wholesale hair merchants sell the majority of their hair to larger hair companies, such as those in China.

Price-wise, the product is not inexpensive and is significantly more expensive than the large wholesale hair dealers stated above because of the restricted supply.
In general, you can choose more of these wholesale hair vendors if you want to diversify your product line; however, to ensure smooth business operations, you should still choose large wholesale hair vendors since they tend to have a more stable supply of goods with respect to both price and quantity.
2.4. Distributors of hair across the world
Hair distributors, who are frequently located in regions with a lack of an adequate supply or subpar manufacturing methods, are an additional kind of wholesale hair seller in addition to hair manufacturers.
2.4.1. European hair wholesalers
Because they originate from industrialized nations with high living standards and stringent business rules, these might be regarded as the most costly wholesale hair suppliers in the entire globe.
Slavic hair, the hair of Slavs and Russians, is often sold by wholesale hair dealers in Europe. Light, smooth, slender, and shiny describe Slavic hair. This is the greatest choice for ladies who wish to give their natural hair, which is comparable in texture and style to extensions in length and volume. They normally exclusively serve European consumers since Slavic hair is frequently light brown to golden.

Slavic hair can withstand any treatment, including straightening, coloring, curling, and styling. Slavic hair is resistant to breaking and drying out. The length typically ranges from 30 to 75 cm. Longer curls are rare in this hair type because of its structural makeup. A hair's lifespan can range from one to five years.

Due to the limited supply of hair on the market, the difficulty in acquiring the original product, and the fact that the hair will lose 30% of its color throughout the coloring process, this hair type is among the priciest ones available. European wholesale hair sellers typically only have a small number of wholesale copies and only sell to end customers since this price is too expensive.

Scams are yet another issue connected to European wholesale hair suppliers. Slavic hair is highly valued and frequently imitated. Avoid falling into scams from wholesale hair merchants in Russia, Ukraine, and Uzbekistan. Some of them promote on the internet and have beautiful images on their websites that they may receive your money by Western Union or Bank Transfer. If you don't get what you ordered, there is no way to get your money back!
In general, not all consumers will find European wholesale hair merchants to be ideal providers. Even now, to maintain supply, European wholesale hair dealers themselves must import a significant amount of hair from Asian hair producers.
2.4.2. American hair wholesalers
Both South America and North American hair providers are used by American wholesalers. Many individuals have held the misconception that Latin and South American distributors of hair manufactured their own hair in order to sell it, but this is not the case.
Due to the fact that South American nations do not sell hair for a variety of reasons, several studies have shown that there are no Latino wholesale hair manufacturers. Tens of thousands of tons of wholesale hair bundles are bought by Latin American nations each year from Asian nations. It's interesting to note that the majority of Google results for "Latin wholesale hair merchants" are from Chinese wholesale hair vendors.

Because America has the potential to be a long-term market, competition among wholesale hair providers is very advantageous. On the other hand, Chinese wholesale hair vendors have created a product especially for this market, wholesale Latin hair extensions, and effectively presented it to Latin American buyers because American customers have a poor perception of Chinese products.

It's challenging to monitor the quality of the American wholesale hair merchants' products because they all utilize imported hair. The value of hair imported into the United States in 2021 was $1,751 million (1.8 tons). This is an increase of 12.51 percent over 2019 and 2018 and a 28.7% rise over 2020.

Additionally, because the hair must be imported, American wholesale hair merchants must pay a lot of expenses including shipping, taxes, and costly labor and equipment costs. As a result, their selling prices are significantly higher than those of purchasing hair directly from a manufacturer.
Consequently, it may be said that: American wholesale hair sellers are unable to create their own hair and must purchase it from other wholesale hair vendors, making it challenging to guarantee excellent quality and a fair price. Therefore, if you want to launch a hair company, this is not the best option.
2.4.3. Wholesalers of African hair
In general, the hair industry's largest market is in Africa. The explanation is because women on this continent have poor hair quality due to their exceedingly short, curly, and thin hair as well as the region's severe environment. Because of this, African wholesale hair dealers also purchase hair from manufacturers before selling it.
Given their limited managerial capabilities and technological proficiency, African wholesale hair suppliers find it challenging to test and assess quality since they obtain their hair from a range of sources.

Deliveries to domestic customers are inexpensive from wholesale African hair suppliers. This is because African wholesale hair suppliers will have their own stock, and the logistics expenses will be lower when they import large quantities of hair from other countries.

African wholesale hair sellers, on the other hand, charge significantly more than Asian hair factories when the total cost is taken into account. Not to mention the issue of scammers, which cause clients to experience severe fear.
Overall, we believe that purchasing hair directly from hair factories is the best option compared to paying expensive costs for unsafe hair from African wholesale hair merchants.
2.5. Compare different wholesale hair suppliers
In general, Asian wholesale hair suppliers are the least expensive, with Vietnamese wholesale hair suppliers being somewhat better but still offering exceptional quality, and Indian wholesale hair suppliers being the least expensive but of lesser quality.
Africans are less likely to purchase hair from European wholesalers since they are more expensive. Scams are a problem when purchasing hair from intermediate distributors, which is another obstacle for other wholesale hair merchants. Therefore, if you want to establish a hair company, I suggest working with wholesale hair vendors; furthermore, if you want the greatest quality at the best price, work very closely with Vietnamese wholesale hair sellers.
3. How to purchase hair from wholesale hair dealers most effectively
Finding and choosing the best wholesale hair vendors is the first and most crucial step in starting your own hair company. How can you therefore optimize your profit while avoiding negative things like middlemen, dishonest hair sellers, and low-quality goods while looking for a wholesale hair vendor?
These days, finding wholesale hair merchants on e-commerce platforms is rather typical. As a result of the fees levied by Aliexpress, Alibaba, eBay, and Amazon, all wholesale hair merchants will increase their pricing. Alibaba presently charges an annual fee and some sellers demand more than $10,000, Aliexpress currently charges 8%, eBay currently charges roughly 13%, and Amazon currently charges between 16 and 17 percent. That suggests that if you purchase hair from wholesale hair sellers on the internet, you won't be able to get the greatest rates.

Additionally, the general hair quality on these low-cost platforms is below average, and 90% of wholesale hair merchants are swindlers that prey on unsuspecting victims. The "wholesale hair sellers" in this region are more akin to trade hubs or even intermediary suppliers than actual manufacturers.

Reading supplier reviews on e-commerce platforms, in the opinion of many customers, can help them avoid taking unneeded risks. However, a lot of reviews are fake or created as part of a marketing campaign to grab customers' attention and convince them to purchase from a certain wholesale hair vendor.

This is yet another significant issue when ordering from a distance. Of course, everything will be marketed as being of the highest caliber, but you can't always believe what you see because the items can look very different when you receive them.
It is thus advisable to purchase hair directly from wholesale hair suppliers through their websites or social media accounts if you want to reduce risks and save money. However, if you don't want to fall victim to scammers, there are a few things you should remember.
Verify wholesale hair suppliers by researching them as much as you can online. You can be sure that you will get high-quality hair from a wholesale hair vendor if they have experience in the hair business. The wholesale hair merchants were able to keep and expand their client base over time because they were successful in doing so.

Make sure you're not only depending on internet reviews if you're looking for consumer reviews. Request video testimonials from wholesale hair suppliers to be sure the information is authentic.

Ask as many questions as you can while requesting price lists: This is yet another crucial aspect to take into account when choosing a wholesale hair dealer. However, while calculating the cost of a haircut, you must be careful to avoid arguing over the hair's quality. It is thus possible to compare the prices of the same specific amount of hair across all wholesale hair providers. Using this method, you can certainly find a wholesale hair supplier that can give you high-quality hair for an affordable price.

A capable hair vendor will be able to provide images and videos of hair: Avoid dealing with wholesale hair suppliers that seem uninterested in delivering you anything or who ostensibly have no photographs. A reputable wholesale hair supplier should always want to get in touch with you and provide you the information you need, as long as it isn't excessive. You should ask the wholesale hair sellers for a video conference in order to verify the manufacturing facilities and their products.

Good wholesale hair providers offer free samples: You should enquire about getting some samples if everything seems to be in order and communication is easy. The wholesale hair merchants essentially have complete freedom over how they label their hair grades, such as 10A or exceptionally double drawn. How well the hair is done may be determined when there are multiple grades to compare. If two different hair types are offered by your service, you can compare them both. After that, you can choose whether or not to place more orders.

If you import your hair from Chinese wholesale hair vendors, you will not be able to return anything, period. Good wholesale hair merchants have a return policy. This is because some goods have extremely high shipping costs for returns. However, you should find out the return policy before making a purchase. Make sure your wholesale hair provider will be held liable if they ship the wrong goods.
There are thousands of wholesale hair suppliers in the modern hair industry. On the other hand, it might be difficult to locate a reliable wholesale hair supplier. If you're looking for a reliable wholesale hair supplier to assist you in starting a business, keep reading.
4. The top wholesale hair suppliers worldwide
You should take a lot of factors into account when choosing wholesale hair sellers. To balance revenue and profit, quality should still come first, followed by price. Here are a few recognized wholesale hair suppliers from across the globe that have a track record of offering quality wigs and hair extensions at competitive costs. They can help you create the appropriate foundation for your hair company.
4.1. The most affordable wholesale hair provider is PHUONGNAM HAIR
If you're looking for a high-quality Vietnam wholesale hair seller, PHUONGNAM HAIR is your best option in terms of meeting your quality requirements. With more than ten years of industry expertise, PHUONGNAM HAIR has created and enhanced our manufacturing system to provide customers with better, more reasonably priced hair.
PHUONGNAM HAIR offers high-quality hair products. This wholesale hair vendor's hair extensions are all made from durable human hair that is 100 percent human and has been ethically collected from Vietnamese women. PHUONGNAM HAIR has a stringent quality control process to make sure the product quality of its hair products is high.
This wholesale hair vendor owns its own hair factory in Vietnam, so the quality of the hair extensions is always assured from the procurement of the raw materials to the superior quality of the completed hair, and they are always proactive in their sourcing practices. Vietnam, a country rich in raw materials with a stable political climate that promotes exports, is home to PHUONGNAM HAIR. Transporting hair products is therefore always easy and uncomplicated.
PHUONGNAM HAIR has a large client base, with the bulk of its customers coming from Europe and Africa. It is a dependable partner with hair suppliers in more than 100 countries. With over 100 highly skilled employees, PHUONGNAM HAIR exports 20 tons of hair annually.

This wholesale hair supplier has always been quite forward about its compensation and return procedures. You are always offered a video call to inspect the product before getting the hair; if it is unsatisfactory, you can request that the factory correct it.

When compared to other wholesale hair suppliers throughout the world, PHUONGNAM HAIR's hair pricing is regarded as the lowest in Vietnam. Regarding the economic value it provides consumers, PHUONGNAM HAIR is an exceptionally reasonable wholesale hair seller in particular since it constantly has a discount policy for big purchases.
Customers consistently express satisfaction with PHUONGNAM HAIR's hair quality, pricing, and ancillary services, including shipping, consultation, and consumer protection policies. According on customer feedback, it is also among the top wholesale hair suppliers in 2022.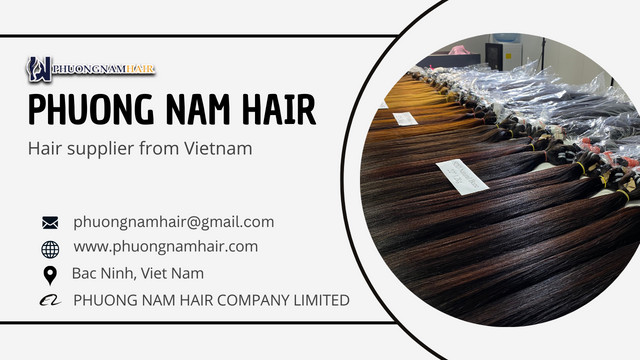 Look no farther than PHUONGNAM HAIR if you're searching for a wholesale hair seller who offers high-quality, competitively priced hair with great customer service. You can operate your salon more effectively with the help of our hair professionals.
CONTACT US:
Website:

phuongnamhair.com

Fanpage Facebook: Phuongnam Hair

Instagram: phuongnamhair_03

WhatsApp: +84 33 346 5538

Location: Building A1, Vinhomes Gardenia, Ham Nghi Ward, Cau Dien, Nam Tu Liem, Hanoi, Vietnam

Youtube: PHUONGNAM HAIR OFFICIAL
4.2. The largest wholesale hair supplier in China is Ted Hair
Chinese wholesale hair supplier Ted Hair is known for its real human hair and hair extension products. Established in 2009, Ted Hair is a well-known hair factory and provider of high-quality hair goods and services in China.
This wholesale hair supplier specializes in using only human hair for wigs and hair extensions. Along with warehouses in Atlanta, New Jersey, and Los Angeles, they also operate a sizable facility in Guangzhou. Ted Hair offers a considerable quantity of hair each year.

As a result of utilizing China's better production and logistics capabilities, Ted Hair can provide customers products at cheap prices.

They sell hair extensions and wigs from several manufacturers, including virgin Peruvian hair, Brazilian hair, Malaysian hair, Indian hair, and Cambodian hair. However, it is tough to pinpoint the exact origin of different hair types since they are so similar in cost and look.

Despite having a great rating, this wholesale hair supplier also gets a lot of complaints from customers concerning the hair's quality. Many clients think the hair they receive is not as thick as promised and is mixed with fake fibers. Various hair types come in varying pricing ranges but seem fairly similar.
Ted Hair continues to offer the most affordable products among them, so if speed and convenience are important to you, you can immediately select them. Chinese wholesale hair suppliers generally still struggle with the issue of fake goods and confusing warranty policies.
4.3. Leading US wholesale hair retailer Dynasty Goddess
In the US, Dynasty Goddess is a well-known wholesale hair supplier. Its goal is to provide top-notch client service in a serene environment.
One of the few wholesale hair suppliers in the US that lets you customize your brand is this one. You may personalize boxes, tags, labels, and more with your brand on them. Dynasty Goddess is manufactured in Thailand, while Florida serves as the shipping hub. Quick, courteous, and trustworthy customer service.

Here you may find hair from Malaysia, India, Brazil, Cambodia, Peru, and other countries. With the right maintenance and care, remy virgin hair may last up to two years and comes in a variety of styles.

However, the costs incurred by purchasing hair from this wholesaler are unreasonably high. You will also be charged $10 if you change any shipping-related details, including an incorrect mailing address.

To guarantee that your order is completed promptly and to your requirements, they use a team of skilled hairdressers that are under the direct supervision of hair professionals with years of expertise in the field. Depending on the color, the hair extension might take anywhere from 7 to 15 days to complete.

Customers are guaranteed the greatest quality by Dynasty with their easy services and expensive costs. Their up to 99% good consumer feedback serves as evidence.
However, we predict that this wholesale hair seller won't be the first choice for startup entrepreneurs due to their excessively high costs, which make it challenging to sell to other clients while still making a healthy profit.
4.4. The well-known Nigerian wholesale hair retailer is called Hairporium
The largest online retailer in Nigeria, Hairporium is renowned in the hair industry for offering the finest wholesale hair vendor prices on premium hair strands.
Their selection is often less varied than other wholesale hair dealers'. Virgin hair is not accessible; they are only offered in remy and non-remy hair kinds.

Customers who get wholesale hair from Hairporium will have to wait between 7 and 15 days, so you will save a lot of time when buying their hair. They also have fair prices and quick delivery times.
Although it is more expensive than factory prices, this wholesale hair dealer in Africa offers reasonable prices. For those seeking the lowest hair, Hairporium's prices are fair, however because of the low price of hair, the buyer will not have many options in terms of hair kind or quality.