Vietnamese hair companies are recognized as the greatest hair suppliers in the world because they offer excellent quality hair at affordable prices. The Vietnamese hair factory is a great place to establish a business if you're looking for a hair vendor. Learn more about Vietnam's hair suppliers and their wholesale hair factories by reading on.
1. Vietnam hair overview: Vietnam hair vendors
1.1. Vietnam's hair's origin
Vietnamese human hair is used only to create Vietnamese hair. All of the young Vietnamese ladies who donate hair are from hilly regions. Due to the cool climate and healthy lifestyles, their natural hair is quite lovely. Customers frequently remark on how smooth, silky, and durable Vietnamese hair is.
1.2. Vietnam hair characteristics
Vietnamese hair is 100% qualified raw hair, as previously said, and thus its qualities stand out in contrast to many other varieties of raw hair from other brands. These important traits include, in particular:
Superior-quality hair that is soft and smooth

Longevity with a years-long lifespan

Looks natural and is well-blended

Adaptable and customizable

Options for full length range from 8 to 30+ inches.
1.3. Classification of hair from Vietnam
1.3.1. The different levels of hair quality
Depending on the number of donors and hair quality, there are two varieties of Vietnamese raw hair: virgin hair and Remy's hair.
The virgin hair from Vietnam is assured to be fresh and unprocessed. That is to say, it is in good shape and perfect for bleaching and restyling.
Vietnamese Remy hair comes from at least two donors. Additionally, the hair is unprocessed and undamaged. It will also undoubtedly follow a regular course. The standard is therefore very high.
1.3.2. Grade classification for hair
Vietnamese hair quality is divided into four main categories. They are double-drawn, single-drawn, and super double-drawn numbers one through three.
The highest grade and most consistent Vietnamese hair are used to create Super Double Drawn 1. The majority of the hair, between 85 and 90 percent, is the same length. The hair appears extraordinarily thick and homogeneous as a result.
About 65-70 percent of the hair in Super Double Drawn 2 is the same length. Although the proportion is lower than in super double drawn 1, the volume of hair is still astounding.
About 30 to 50 percent of the hair in double drawn is the same length. an affordable fee for those in middle-class circumstances.
Single-drawn is roughly 10–20% longer than double-drawn. Hair that is thin at the tail will appear thick at the base. Layering works well with this hair type.
2. Why should you purchase hair from vendors in Vietnam?
Vietnamese hair producers may not have the lowest prices on the market, but their prices for human hair extensions are the most reasonable.
2.1. Natural sources produce the highest caliber
This benefit results from two main factors:
A long history of hair production: The Vietnamese hair industry has expanded significantly since 1992. A long-established hair hamlet in Vietnam noted for generating high-quality hair is Dong Bich village in the province of Bac Ninh.
Natural source: In mountainous regions, hair is exclusively obtained from young Vietnamese women. The entire year is cold, and they spend their days working in the sun. The hair is quite strong and still has its original colors. In order to keep their hair very durable and strong, these women also wash it every day with natural herbal components. You should import hair from Vietnam for this very good reason.
2.2. Simple to execute
Vietnamese hair is simple to style in a number of chic, alluring, and distinctive ways because to these origin advantages. Vietnamese hair has maintained its natural color and smooth texture, regardless of whether it is used to create hair extensions or is processed into curly, wavy, or bleached hair. If so, Vietnamese factories are a great option for your business to import hair from.
2.3. Affordable price
The world's most affordable hair comes from Vietnam because:
Low labor expenses: Compared to many other nations, labor costs are lower in the United States because of the size of the workforce.
There are no transportation charges because Vietnamese hair manufacturers usually place their facilities close to the source of their raw materials.
Vietnamese factories offer high-quality hair and durability at a low price, making them a superior option for bulk hair imports.
3. Top 3 Wholesale Vietnam Hair Vendors at the Lowest Prices
The Vietnamese hair market has expanded to become one of the most well-liked wholesale hair providers in the globe in recent years. The following are the main explanations for why Vietnamese hair factories are among the most widely used for hair outsourcing.
One of the top hair suppliers in Vietnam, PHUONGNAM HAIR has more than ten years of expertise in producing and selling hair. PHUONGNAM HAIR constantly tries its best to conduct research on how to improve the hair, ensure the quality, and continue to be the least expensive, with the motto YOUR SATISFACTION IS OUR HONOR.
Website: phuongnamhair.com

Fanpage Facebook: Phuongnam Hair

Instagram: phuongnamhair_03

WhatsApp: (+84) 33 346 55 38

Location: Building A1, Vinhomes Gardenia, Ham Nghi Ward, Cau Dien, Nam Tu Liem, Hanoi, Vietnam

Youtube: PHUONGNAM HAIR
Name of the brand: The largest hair factory in Vietnam, which also supplies hair to numerous international wholesale hair retailers and direct hair factory manufacturers, offering hair at factory prices with a satisfaction guarantee.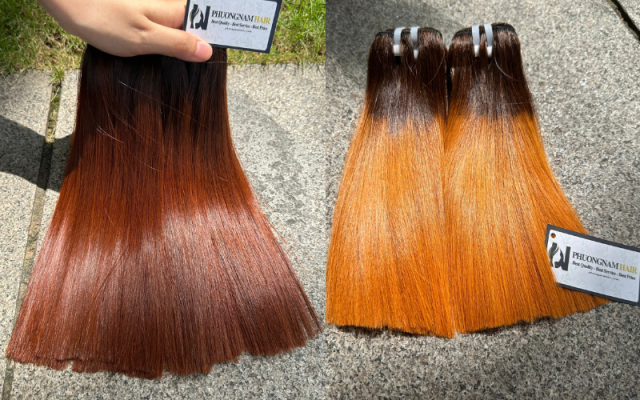 Customers from Africa (including Nigeria, South Africa, and numerous other nations across the world, including the US, UK, and Mexico) make up the bulk of PHUONGNAM HAIR's clientele.
Along with having consistent costs and high-quality items, PhuongNam Hair is always made to look especially favorable in the eyes of its clients thanks to the incentives associated with its products.
3.2. Humanhair.vn 
Humanhair.vn has grown from a business that largely catered to customers in Europe and North America to one that now has strategic partners in Latin America, Africa, and the Middle East.
The goal of humanhair.vn is to offer the best hair products at the lowest possible costs. The price is also fair, and the quality is continuously getting better. They also frequently update their products to meet the changing needs of our clientele.
Customers from Africa (including Nigeria, South Africa, and numerous other nations across the world, including the US, UK, and Mexico) make up the bulk of Humanhair.com's clientele.

Name of the brand: The largest hair factory in Vietnam, which also supplies hair to numerous international wholesale hair retailers and direct hair factory manufacturers, giving hair at factory rates with a satisfaction guarantee.
Although the public is not familiar with Humanhair.vn, clients who have used the company's products agree that the prices are incredibly fair given the high quality of the products.
3.3. K-Cabello
Another brand of K-hair factory that provides 100% raw virgin bulk hair to consumers in Mexico is K-Cabello. Contact K-Cabello for more details if bulk hair or tip tape hair are of interest to you.
The demand for bleaching ability is significant given that their target market is primarily composed of white people. Since they sell virgin hair, the price of the product is greater as a result. However, because K-cabello typically imports new goods in large quantities, their prices are the lowest.
4. How can I purchase hair from providers in Vietnam?
4.1. Vietnamese hair importation procedure
Take these precautions while searching for a reputable hair supplier to launch your hair business to reduce the hazards associated with importing hair.
Research is the first step.
You will face a number of difficulties while using the international import method, including difficulties with payment processing and other languages. You are now more open to con artists.
You should thoroughly investigate hair providers using web tools like Facebook, Instagram, Google, and others to be safe.
The next step is to speak with the salesperson
Reach out to them on Whatsapp, Facebook, Instagram, or any other network they use once you've located a trustworthy source.
Finally, the step is to place an order.
The third step is to provide them with information about your product requirements, such as length, quality, color, style, etc., after you have successfully contacted sales representatives.
4.2. Placement of Orders
The ordering process is one of the most important steps. As a result, we'll take you step by step through the ordering procedure.
Picking Order in Step 1
Choosing an order that satisfies your requirements, including length, color, and style, is the first step.
Step 2 is checking
The sales staff will give you an invoice that includes the pricing, delivery cost, and other information as the second step in the purchasing process, and this will serve as confirmation of your transaction.
Step 3 is paying the bill
In order for us to make exactly what you want, you must specify the type of hair, length, color, quality, and other details when placing an order.
Step 4: Creating the product
The fourth stage is when we start making the hair to your requirements after receiving your order. The duration of the production process can range from 7 to 10 days, depending on your requirement.
Obtaining movies and pictures is step five.
After the production is finished, you will receive videos and pictures of the products so you can check their quantity and quality.
Step 6: Shipping and confirming
The last step is for you to confirm your order before we start mailing it to you.
4.3. Shipping Process
You should keep a careful eye on the order's delivery procedure, and don't forget to provide feedback to the vendor.