The season of holidays like Halloween and Christmas is at the end of the year. Hair extensions will unquestionably be your vital accessory if you plan on taking part in the festival's activities. When dressing up as a character for Halloween, hair extensions are a must-have. Gentle also throughout the Christmas season.
1. Why you need to be aware of how to safeguard hair extensions when traveling
In addition to the skin, the hair is the body part most impacted by the environment during festivals (sun, wind, water, etc). Therefore, it's essential to understand how to safeguard hair extensions when traveling.
You can keep your hair looking great while partying all day if you know how to maintain hair extensions while on vacation. Your hair will still need to be properly safeguarded even if the hair extensions you buy are of the highest quality and come from the best human hair factory.
Users of hair extensions are obsessed with going to pool parties or seaside events. Hair extensions may also be in danger if unintentionally exposed to water, dust, or excessive wind. Therefore, educate yourself on hair extension protection when traveling.
After the holiday, many people who used hair extensions were forced to give up their preferred hair extensions. They can't regulate their hair extensions because there are usually a lot of activities over the holidays, which results in highly damaged hair extensions.
In general, while using hair extensions to attend festivals or parties, you need to be aware of how to safeguard them while on vacation. To learn how to safeguard hair extensions when traveling, keep reading.
2. How to keep hair extensions safe when traveling
There will be a strategy to safeguard and preserve your hair extensions depending on the sort of event you attend. Don't be subjective while wearing hair extensions while on vacation since you need still be aware of how to safeguard your extensions even if you get good Vietnamese human hair.
2.1. How to care for hair extensions when traveling, especially on a morning trip in the sunshine
Both the good and the bad for your body are sunlight. Knowing how to maintain hair extensions on vacation is crucial if you're going to be spending your time in a hot, windy location like the beach.
Use sunscreen with a high SPF, such as Kerastase's Soleil Aqua Seal, a leave-in spray that is portable and easy to apply.
Instead of the little ring or tape extension, concentrate the sunblock on the length of the hair because this might make the extensions a little floppy.

If the wind is blowing too fiercely, you should wear a hat with an extra broad brim. This kind of headgear not only keeps your hair from flying around but also protects your hair extensions from harm.
Generally speaking, the sun and wind are practically ideal for hair extensions, particularly keratin-based (tip/tape in extensions). Try the aforementioned techniques to maintain the beauty of your hair extensions during the holiday.
2.2. How to safeguard hair extensions while traveling – a vacation with water
Water-related activities (beach, pool party) are unquestionably essential throughout the vacations, especially the summer holidays. In addition, unless you wash your hair, water is one of the essential components of hair extensions. How then can you keep your holiday water party hair extensions safe?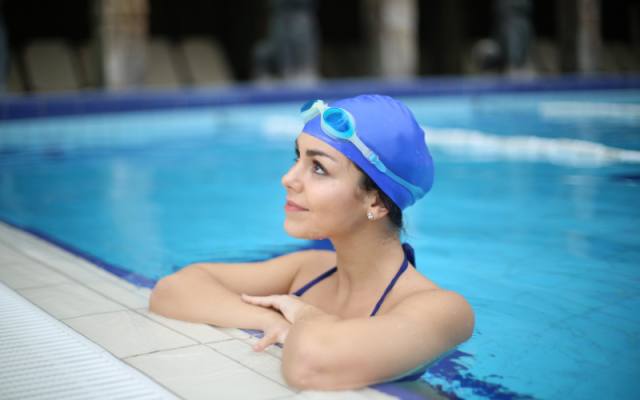 Do not let your hair extensions, especially the tapes come into touch with water, if you are using tape for hair extensions. Otherwise, the tape in your hair extensions will start to fall out.

Apply a hair treatment to your hair after the party if you mistakenly joined the gathering with tape-in extensions and water. It will aid in preventing further harm to your hair.

You may swim with adhesive and microring extensions. Just pull your hair back into a ponytail or similarly plait it before going in to avoid tangling and pulling.
Hair, especially blonde hair, is damaged and discolored by pool chemicals and chlorine, which can cause it to become green. Therefore, whether you use human hair extensions or not, you should always wash your hair as soon as possible with a shampoo made to remove chlorine after going for a swim.
2.3. What we need to carry on vacation in order to safeguard our hair extensions
If you plan to use hair extensions while you are on vacation, you must pack all of these items.
You may make the most of your vacation time by washing, brushing, and styling your extensions before you go. Verify that all the clips are completely dry and that they are all closed before securing the storage bag. So, fold them flat in your luggage and pack them for your first night abroad looking gorgeous!
Maintain a bag with your sulfate-free shampoo and conditioner. Sulfates are excellent cleaners, but they have the potential to strip the hair of its natural oils, leaving your extensions looking dry and coarse over time. The frothy bubbles you experience when giving your hair a bath are due to sulfate. Use a moisturizing, sulfate-free shampoo instead to protect your hair extensions while you're traveling (and at home). Bring hair care items that are appropriate for the kind of hair extension you're using. You need to carry tape in extension shampoo if you use tape in extensions.
You could wish to carry our full-size gift box to treat your hair after a long day of sunbathing on short getaways, or you might want to consider decanting your favorite product into smaller bottles.
Generally speaking, if you are traveling with hair extensions, you must learn how to safeguard them. After a trip, don't let your extensions fall through.
3. The team at PHUONGNAM HAIR can provide advice on how to care for hair extensions while traveling
This hair manufacturer provides goods made from the finest hair at reasonable pricing. Even the most discriminating customers from different nations like doing business with PHUONGNAM HAIR because it always exceeds their expectations. Because PHUONGNAM HAIR sells its products, this is achievable.
The PHUONGNAM HAIR team appears to be knowledgeable about hair extensions. Any questions you may have regarding hair extensions may be answered by them.

This facility, the largest of its kind in Vietnam, welcomes customers looking for hair extensions from all across the country. This is because the plant is the largest of its kind in all of Southeast Asia due to its size.
CONTACT US:
Website:

phuongnamhair.com

Fanpage Facebook: Phuongnam Hair

Instagram: phuongnamhair_03

WhatsApp: +84 33 346 5538

Location: Building A1, Vinhomes Gardenia, Ham Nghi Ward, Cau Dien, Nam Tu Liem, Hanoi, Vietnam

Youtube: PHUONGNAM HAIR