Customers searching for dependable and top-notch hair extension goods and services have long thought first of raw Vietnamese hair merchants. However, it might be difficult for newcomers to the hair extensions market to distinguish between raw hair extensions and other kinds of hair extensions, as well as between Vietnamese hair dealers and vendors from other nations. In this post, we'd like to give a general overview of raw Vietnamese hair vendors and explain how to import from the best raw Vietnamese hair vendors for your company in order to allay the frustrations and confusion of new clients.
1. A description of the raw Vietnamese hair market
The first portion of this page will provide information on the definition of raw Vietnamese hair sellers as well as the items they sell, including a comparison between raw and other forms of hair materials.
1.1. Vietnamese hair merchants that sell raw hair defined
Vietnamese sellers of top-tier raw hair products for both retail and private consumers are known as "raw Vietnamese hair merchants." Vendors of raw Vietnamese hair develop an undeniably enormous reputation for offering premium goods at fair pricing and first-rate customer service, both domestically and abroad.
Vendors of raw Vietnamese hair obtain their supplies from women of ethnic communities residing in the country's northern mountainous regions. Their lifestyle is as ideal as it can be for their hair's quality. Their primary sources of food are meat and vegetables that they have grown themselves without the use of artificial fertilizers or other additives. The environment in Vietnam's highland regions is also renowned for being clean and pollutant-free, which helps explain why ethnic women's hair is so silky and smooth. Vietnamese raw hair is one of the most sought-after raw hair extension goods on the market right now because of these advantageous circumstances.
1.2. Products sold by Vietnamese merchants of unprocessed hair
Due to their qualities, which were covered in the previous section, raw Vietnamese hair merchants can provide consumers with virtually any styles or colors that are available. The most common styles and colors of raw Vietnamese hair may be found in the list below.
1.2.1. Vendors selling unprocessed Vietnamese hair provide a variety of styles
Although raw Vietnamese hair sellers provide many different styles, the ones shown below are the most often used, and as a consequence, wholesale clients should give them high priority if they want to grow their own businesses:
Raw clip-in hair extensions: Clip-in wefts are attached to your natural hair with clips. Since they do no harm to your own hair, this type of hair extension is regarded by hair specialists as the safest of the lot. Additionally, clip-ins may be completed at home without a professional's help and just take a few minutes. As a consequence, clients may get clip-in raw hair extensions for the lowest prices. Clip-in raw hair extensions are the ideal choice for people seeking a temporary change of look at an affordable price.

Tape-in raw hair extensions: To achieve the desired results with this form of raw Vietnamese hair vendor extension, clients must seek expert guidance. Professional hair salons would apply tape-in strips to the roots of your genuine hair using hot adhesive for tape-ins. To connect together through the natural hair, the strips must be extremely thin. The cost of these hair extensions is a little bit greater since they need to be applied by specialists and can take up to an hour. However, tape-ins are the quickest to place and the simplest to manage of all semi-permanent hair extensions.

The most often used kind of hair extensions on the market, particularly for people with thicker hair, are sew-in raw hair extensions, also known as weaves from raw Vietnamese hair merchants. Sew-ins need more work to install than tape-ins or clip-ins, and the process might take two hours or longer, depending on the number of rows required. Your natural hair must first be braided into cornrows before the extension is woven with a needle and several threads into the braids. Sew-ins are the most durable and permanent designs, so even though this is a time-consuming process, clients may benefit from them for a very long time.
1.2.2. Products made from unprocessed Vietnamese hair that range in color
Although it retains the natural qualities of unprocessed Vietnamese hair, it may be altered and colored in a variety of colors to meet any customer's needs. The most common color colors that buyers search for when purchasing Vietnamese hair that is still in its natural state are listed below.
Customers that choose natural black are generally from South America and Africa, especially Brazil, where the original color of their natural hair is similarly black. Vietnamese hair that has never been treated with any kind of chemicals is recognized for its natural texture and smooth touch

Blonde: Due to the fact that European clients' natural hair color is blonde, this shade is very well-known among them. Since blonde hair extensions colored from raw Vietnamese hair produce the best results, customers searching for high-quality blonde hair extensions should prioritize merchants selling this hair.
Additionally, raw Vietnamese hair merchants may alter raw hair ingredients to accommodate each customer's preferences, including changing the color to silver grey or ombre. With its extraordinary quality, Vietnamese raw hair may please even the most discerning clientele.
2. Vietnamese retailers selling raw hair are compared to other vendors selling raw hair
In this area, we compare raw Vietnamese hair merchants to hair vendors from other nations, including China and India, to reassure buyers about the quality of the items given by raw Vietnamese hair vendors.
2.1. Vendors of raw Vietnamese hair against raw Indian hair
Indian temples and homes are the two major places where raw Indian hair is gathered. Numerous followers of Hinduism congregate in south Indian temples each year to express their reverence and honor for their Gods and to beg the greatest deities for blessings. They would shave their heads to demonstrate their honesty, and the hair would be gathered and used to create raw Indian hair products.
The cuticles of raw Indian hair, which is the lowest grade of all raw hair extensions given by other nations since it is naturally curly and collected from many donors, are not aligned with one another. Their cost is hence the lowest compared to their competitors. When deciding whether or not to purchase raw Indian hair from vendors, customers should analyze the quality of the hair. Here is an illustration of a raw Indian hair vendor's price list:
Since it shows the average pricing rate of Indian hair vendors rather than a specific one, this price list should only be used as a research tool. The quality of the Indian suppliers given is poorer than that of the raw Vietnamese hair vendors, so customers can still notice that the price level of raw Indian hair vendors is significantly lower than that of raw Vietnamese hair vendors.
2.2. Vendors of raw Vietnamese hair vs raw Chinese hair
In order to compare raw Vietnamese hair sellers to raw Chinese hair vendors, clients must first grasp what raw Chinese hair is and where it originates. Vendors of raw Chinese hair typically obtain their hair supplies from women of ethnic groups residing in hilly regions. Raw Chinese hair, however, cannot be compared to raw Vietnamese hair since it has weak and thin natural qualities that make it particularly susceptible to loss and tangle.
Furthermore, as a result of China's economic development, even women living in mountainous regions now have better living conditions, allowing them to enjoy a diet higher in fatty foods and lower in vegetables or vegetables grown with fertilizer. Since the weather in China is so harsh and at times seems like it is below freezing, it is also not good for the quality of hair.
Another issue with suppliers of raw Chinese hair is that actual raw Chinese hair has become very hard to find recently since women who live in China's mountainous regions no longer need to sell their hair to supplement their income. Due to effective logistical networks and distance, raw Chinese hair sellers must import raw hair supplies from neighbors like India. Vendors of raw Chinese hair can greatly raise the quality of imported hair with the use of cutting-edge equipment and technology. Customers should exercise caution when choosing to buy products from raw Chinese hair vendors because they may advertise their raw Chinese hair as being raw Indian hair when it is actually raw Chinese hair. This is because we have already covered the quality of raw Indian hair in the previous section.
The overall price of raw Chinese hair is relatively low compared to other prices offered by vendors from other countries, such as raw Vietnamese hair vendors, because the original characteristics of raw Chinese hair are not favorable and because the majority of the raw hair materials used by raw Chinese hair vendors are from other countries. Customers should bear in mind, though, that "The quality is always worth the price" and that Chinese hair is best for individuals on a tight budget or who only want to obtain short-term hairstyles that can be altered frequently. The price list from a raw Chinese hair merchant is shown below as an example.
This pricing list is only a general representation of the market price that raw Chinese hair suppliers are willing to charge. Because authentic raw Chinese hair is of superior quality and China must import hair from its neighbors, the price of raw Chinese hair is somewhat more than the price of raw Indian hair. This is because the price must also cover the fixed expenses of factories, machinery, and other infrastructure.
3. PHUONGNAMHAIR – the #1 supplier of raw Vietnamese hair
One of the top hair suppliers in Vietnam, PHUONGNAM HAIR has more than ten years of expertise in producing and selling hair. PHUONGNAM HAIR constantly tries its best to conduct research on how to improve the hair, ensure the quality, and continue to be the least expensive, with the motto YOUR SATISFACTION IS OUR HONOR.
Website:

phuongnamhair.com

Fanpage Facebook: Phuongnam Hair

Instagram: phuongnamhair_03

WhatsApp: +84 33 346 5538

Location: Building A1, Vinhomes Gardenia, Ham Nghi Ward, Cau Dien, Nam Tu Liem, Hanoi, Vietnam

Youtube: PHUONGNAMHAIR OFFICAL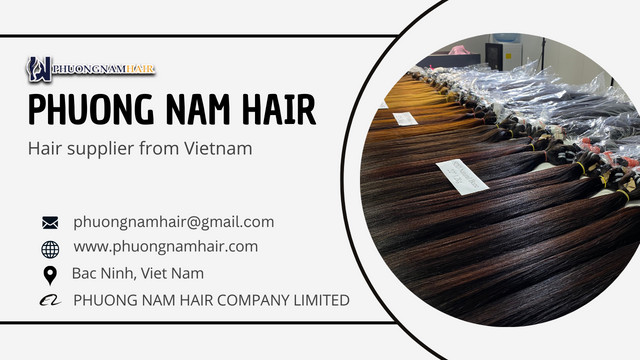 4. How to import Vietnamese merchants of unprocessed hair
In the final part, we'd like to offer consumers information on how to get raw Vietnamese hair from vendors, including how to choose the best and most dependable sources as well as importation procedures.
4.1. Locate the most reliable suppliers of Vietnamese raw hair
Customers may learn how to contact potential raw Vietnamese hair vendors in this section in the most effective and economical methods, as well as some potential scam and fraud warning flags to help you avoid doing business with dishonest raw Vietnamese hair vendors.
4.1.1. Channels to use to locate the best Vietnamese merchants of raw hair
There are several ways for wholesale buyers to locate the best raw Vietnamese hair suppliers, but the most well-liked and efficient methods are listed here.
Utilize social media to locate raw Vietnamese hair merchants
All raw Vietnamese hair merchants nowadays use at least one social media account to engage with clients, coworkers, and other associates as well as to market and publicize their goods and services. Customers place a lot of value on a social media page that caters to them, has clear information about prices and other terms and conditions, and has attentive and available customer support personnel. Since social media is much more convenient than traditional means of contact, such as emails or telephone calls, clients may readily obtain information about the items through social media, and even share more information when a commercial transaction is executed.
Vendors of raw Vietnamese hair use social media sites like Facebook and Instagram the most frequently, but they also use WeChat, WhatsApp, and other platforms to expand their global consumer base.
By using e-commerce websites, locate suppliers of Vietnamese raw hair
It is much more difficult for wholesale consumers and suppliers of raw Vietnamese hair to meet and conduct face-to-face negotiations now that the Internet has made it possible, particularly in the setting of the epidemic. As a result, e-commerce websites have been crucial in bridging the gap between buyers and sellers, particularly for foreign clients of Vietnamese merchants of raw hair.
Vendors of raw Vietnamese hair have recently made extensive use of e-commerce platforms to increase sales, particularly from foreign buyers. Customers may browse the variety of goods that raw Vietnamese hair merchants have to offer on their e-commerce websites and determine which ones to buy with just a single click!
Utilize search engines to locate wholesale Vietnamese hair suppliers
In today's environment, information is readily available to consumers! Wholesale clients of raw hair vendors in Vietnam may almost find anything online by inputting keywords like "raw Vietnamese hair sellers" or "top raw hair vendors in Vietnam," and search engines will return a ton of related results. Since these websites receive the most traffic and (most of the time) have the most customers, customers may simply discover the results that are most heavily pushed.
4.1.2. Customers should be aware of raw Vietnamese hair vendor fraud warning indicators
There are various methods to identify a fraud or fraudster, but in this part, we'd like to highlight the most obvious warning signals that buyers should be on the lookout for when selecting reputable raw Vietnamese hair suppliers.
The most reliable information may be found in consumer reviews. Consumers should avoid contacting these suppliers directly if there are too many nice evaluations from anonymous customers or accounts that have been duplicated.

In the current digital world, there is a good chance that a hair provider is a con if they don't have any social media accounts, an online store, or even just a basic website where they may connect with clients and market their products.

This is also a fake hair provider if the company has no business license. The most crucial need to distinguish a trustworthy raw hair dealer from a ghost organization is a business certificate.

Another major red flag of shady hair dealers is demanding exorbitant prices from clients. Customers get free access to product information during the inquiry and business contract processes.

Scammers are hesitant to video contact clients directly because they worry that the customers would learn about their scam operation. Professional raw Vietnamese hair merchants, meantime, are constantly prepared to advertise their goods and services to their clients, so luring additional clients to make purchases.
4.2. How to import raw hair Vendors of Vietnamese hair
The procedures for buying hair from raw Vietnamese hair sellers are listed below once consumers have chosen the vendors they wish to work with and establish business relationships with. Although each hair seller may require certain modifications, the steps shown below are the most typical ones.
Step 1: Before determining whether to execute a business contract with them or not, speak with the customer service personnel about the items you like to buy, confirm the models, quantity, etc., and other related details like payment terms, delivery terms, and conditions, etc.
Step 2: Depending on the raw Vietnamese hair suppliers you work with, when you confirm your purchase, they could ask you to provide the money before beginning to fulfill it.
Step 3: Customers may simply monitor the status of their orders at this point. Customers have the opportunity to see videos of the production process for their items at PHUONGNAMHAIR, one of the top raw Vietnamese hair sellers on the market.
Step 4: Once completing the manufacture of your orders, certain raw Vietnamese hair suppliers, like PHUONGNAMHAIR, even go above and beyond to please their clients by only sending your orders after they have gotten your approval of the items. Please remember to properly inspect the items when consumers get their orders in case there are any issues that require quick fixes.